Thursday Thirteen # 33 - An obstruction of dons, a melody of harpists and other such phrasings . . .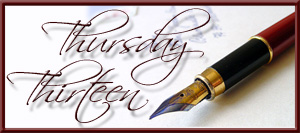 Continuing my recent fascination with the names of things, I bring you thirteen MORE collective nouns for this week's Thursday Thirteen.
1. An obstruction of dons
2. A talent of gamblers
3. A galaxy of governesses
4. A conjunction of grammarians
5. A herd of harlots
6. A melody of harpists
7. An observance of hermits
8. A neverthriving of jugglers
9. A banner of knights
10. An eloquence of lawyers
11. An illusion of magicians
12. A cortege of mourners
13. An illusion of painters
Get the Thursday Thirteen code here!
View More Thursday Thirteen Participants