Fresh Eggs: scribblings and other such scratches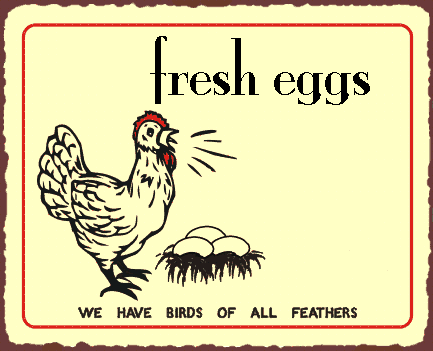 With apologies to Thomma-Lyn who has been waiting patiently for me to answer my interview questions from some time ago; my adult life commitments have been encroaching on my writing/blogging life. I took a personal day off today to catch up on my overdue paperwork and on spend some time writing, just for me – and well, for TL (smile). Here's the first question:
Tell me about chickens. Which came first, your little girl Chicken or the literary Chicken-scratch? And what, for you, is the symbolism of each and in what way do the two Chickens tie together for you?
As a little girl, I was fascinated by my father's signature. His penmanship was perfect. He signed his name with precision and delicate symmetry. He created a masterpiece using a simple ballpoint pen. His signature was in stark contrast to his daily scribblings. You see: my father had the equivalent of a grade nine education.
When he immigrated to Canada in the 1950s, he spoke and read no English. He took ESL classes in the basement of church hall in Montreal in order to pass his citizenship test. It was in Montreal, during those first few years in his new country, that he perfected his signature.
I used my father's citizenship lessons as the basis for the "A Lesson in Calligraphy" chapter in Saints and Cigarettes.
The chicken-scratch theme evolved out of the conversation that Georgios and Magda have about writing. And when I decided to start a writing blog, chicken-scratch seemed a natural fit.
My beloved Mama used to call me her little chicken, much in the same way that her mother, my yiayia, called her. And so, when EM was born, I did the same. In Greek tradition, it's bad luck to call babies by their given names until they are baptized. Now that EM is two (and very verbal) if you ask her what animal she is, she'll say "chicken/kotopoulo."
Both the literary chicken and my baby chick share the same bloodline. For my dear little chicken EM, I want her to know, cherish and celebrate her lineage.
Chicken-scratch in its inception was meant to be a forum to share my manuscript with a larger audience. In many ways, I wanted to give a voice to my parent's experiences. I am a writer and a storyteller because of them.
Chicken-scratch is a virtual scrapbook. I post bits and pieces that feed my writing life. While I haven't been sharing much of my manuscript, my posts online make my off-line writing stronger.
The beauty of a blog is that its form and content are fluid. Through chicken-scratch, I've met and formed deep connections with other writers who inspire and motivate me. And for that, I am eternally grateful.