Thursday Thirteen # 32: a collection of collective nouns, thirteen to be exact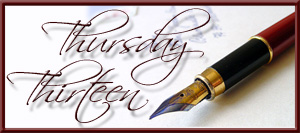 In keeping with the recent trend of naming groups of things, I bring you a sampling of colourful collective nouns. Feel free to add your own!
1. A group of academics is a faculty
2. One of aldermen is called a bench
3. Of arsonists, a conflagration
4. Of Barmen, a promise
5. A group of boys is called a blush
6. Of barbers, a babble
7. A bevy or galaxy of beauties
8. A goring of butchers
9. A sneer of butlers
10. A group of capitalists are called a syndicate
11. A school of clerks
12. And a shrivel of critics
13. Finally, at least for this week's Thursday Thirteen: A stalk of foresters.