Thursday Thirteen # 26 – 13 creative writing prompts to fuel your imagination.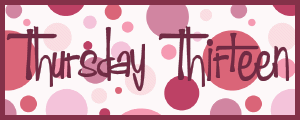 Use these prompts to create stories, poems and generate creative content for your blog.
1. Imagine your life is now a book blurb. In 100 words or less, tell us why we should buy your book.
2. Write about the "fickle finger of fate."
3. In 200 words describe a hot day.
4. Write about a task, job or chore you dislike.
5. List 15 simple pleasures. Pick one and write about it.
6. Write about a memory related to a holiday.
7. What is your greatest fear?
8. Write about a habit that's hard to break.
9. Write about what you do on a rainy day in 250 words or less.
10. List 9 good reasons to break off an engagement or call off a wedding.
11. List 10 things you would buy with your last $20.
12. Come up with 10 reasons you should skip bathing this week.
13. Write from the point of view of a freshly scrubbed floor.
For hundreds more creative writing prompts, go here.
Get the Thursday Thirteen code here!
View More Thursday Thirteen Participants