Thursday Thirteen # 24 - 13 weird & wonderful names for things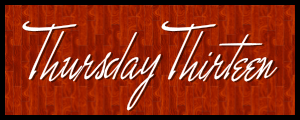 A
s a self-professed word-nerd, I have a large repository of weird and wonderful words I've been collecting over the years. For this week's
Thursday Thirteen
, I bring you 13 (unusual) names for things found on
Canongate
.
How many of these were you familiar with?
1. AGLET - The covering on the end of a shoelace.
2. ARMSAYE - The armhole in clothing.
3. CHANKING - Spat-out food, such as rinds or pits.
4. FEAT - A dangling curl of hair.
5. FERRULE - The metal band on a pencil that holds the eraser in place.
6. HARP - The small metal hoop that supports a lampshade.
7. JARNS,
8. NITTLES,
9. GRAWLIX,
10. and QUIMP - Various squiggles used to denote profanity in comics.
11. KEEPER - The loop on a belt that keeps the end in place after it has passed through the buckle.

12. MINIMUS - The little finger or toe.
13. SCROOP - The rustle of silk.