Playing Along with Red - Christmas you say?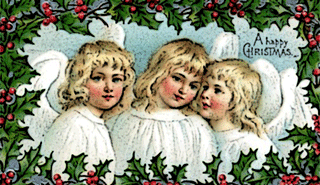 Found at Red Garnier's blog. Won't you play along?

What is your favorite Christmas gift? The gift of time, time spent with loved ones. One of my favourite quotes from The Little Prince sums it up best: "One sees clearly only with the heart. Anything essential is invisible to the eyes."

What is your best memory of Christmas? Truly? We confirmed my pregnancy on December 6, 2004, the feast day of St. Nick and on what would have been my father's name-day. Growing up this always marked the beginning of the Christmas season. More recently: spending the first Christmas without my beloved Mama with my uncle and our extended family up island. I could feel my mom and dad's presence around us. EM was in heaven running around with all her older (mostly male) cousins.

Depending upon where you live, do you have a hot or cold Christmas? We live on the west coast of Canada. It's mostly cold and rainy in December. We don't usually get snow until mid-January.

Would you prefer to try the opposite weather at least just once? Absolutely. Close friends of ours will be moving to Australia in Spring 2008. We plan to experience a tropical, warm Christmas in the next two years.

What do you prefer in a tree? Fake or real? Even if it has to be a Charlie Brown tree, real please!

What is your favorite carol?

Go, tell it on the mountain,
Over the hills and everywhere
Go, tell it on the mountain,
That Jesus Christ is born.

What is your favorite Christmas dinner? I'm a traditionalist: turkey, stuffing, gravy, mashed potatoes, you get the idea.

Do you wear a Santa hat at Christmas? Can I plead the fifth, even tho' I'm Canadian?

Have you ever seen Santa delivering gifts? Are you kidding me? Did you know that Norad tracks the sleigh? Can't wait to share the magic with EM!