Nemo: found

We're sleep training EM. At 25 months old, it's time.
Tired of the protracted routine that is considered normal for bedtime, our household has decided that EM must learn to put herself to sleep. After 10 days of tears and cries for "help", EM is settling in nicely to her 4-step routine:
1. brush teeth
2. pick out 2 to 3 books to read
3. kiss mommy & daddy good-night and,
4. say good-night & sweet dreams to the (real) fish
Yes, we've bribed our 25-month old with an aquarium. Not just any aquarium, but a leopard painted pink and gold one that's similar to the one pictured below (minus the goofy antennas):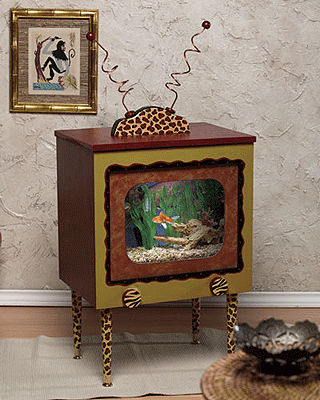 While EM is dreaming of electric fish, we're all catching up on our own much needed zzzz's.