Thursday Thirteen # 20 - 13 random blogs I enjoy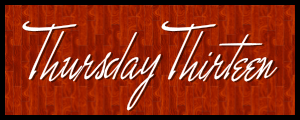 In an effort to break-through
my writer's block (!)
, I visit tons of blogs on a semi-regular basis. The thirteen below range from
the literary to the risqué.
The list is by no means exhaustive, it's just mean to give you a glimpse into how I spend my time when I'm not visiting other Thursday Thirteeners!
Which blogs do you frequent?
1. Margaret Cho - Comedienne and actress
Margaret Cho
uses her blog to post long entries on everything from politics to music to her new tattoo.
2. Boing Boing - a directory of
wonderful things
3. Bookslut - Jessica Crispin oversees a
constant stream
of reviews, interviews and industry news.
4. Old Hag - Arts and culture,
book reviews
.
5. Post Secret - An ongoing community art project. People mail in their secrets and they're posted anonymously. Often used as
a writing prompt
.
6. Dooce - Famously fired for maintaining a blog, Heather Armstrong consistently wins accolades for her
humour
and writing.
7. Greek Tragedy - Stephanie Klein's running commentary on her dating life got her a book deal for
"Straight Up and Dirty."
She's now married, no longer living in New York and is a new mom to two beautiful twin babies.
8. Huffington Post - Part news aggregator and part group blog, Arianna Huffington's blog features entries from the likes of John Cusack,
Norman Mailer
, and more.
9. Life Hacker - Computer downloads, websites,
shortcuts
: all designed to make life easier.
10. A Beautiful Revolution - Andre is a minimalist. His
elegant line drawings
and precise comments/observations on life - are jolts of electricity.
11. Mental Floss - "you know you can
feel smart
again."
12. Confessions of a Pioneer Woman - Ree is plowing through life in the country and describes herself as a desperate housewife who channels
Scarlett O'Hara, Ethel Merman, and Sylvia Plath
.
13. The Saddest Thing I Own - Ongoing net art project, similar to Post Secret. " A collection of
life's saddest objects
, their sad stories, and our reasons for holding onto these sad things."