It's official: I've lost my mind

I've entered the 3-day novel contest; this event will take place September 1 - 3, 2007 over the Labour Day Weekend. I am one of a large group of writers worldwide who believes that it's entirely possible to produce a novel in 72 hours.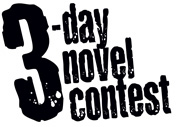 What's my motivation: to get the cobwebs out of my brain, shake things up and get writing again. It could be the summer heat that's put a brake on my creativity. More likely: my monkey mind.
What's the outcome: Well, If I win or get short-listed — Grand Prize: Publication (summer 2008); 2nd Prize: $500 cash or 3rd Prize: A great literary prize pack.