Thursday Thirteen # 13 - 13 ways to "Turn It Off"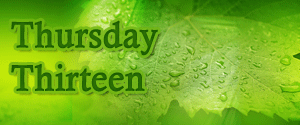 On May 16 turn off your unnecessary lights, TV and other appliances to help save electricity and a whole lot more. Think globally, act locally.
Lighting
1. Turn off all lights when you leave the room.
2. Switch to compact fluorescent light bulbs. They use 75 percent less energy and last up to eight times longer than incandescent light bulbs.
3. Use dimmers with your incandescent light bulbs to extend the life of the bulb.
4. Use holiday light emitting diode (LED) strings. They use 95 percent less electricity and last ten times longer than standard incandescent strings.
Kitchen Appliances
5. Run the dishwasher only with a full load of dishes. Let the dishwasher air-dry or use the economy setting.
6. Use small appliances to cook meals or BBQ outside.
7. Keep your fridge or freezer away from heat sources.
Computer/TV
8. Turn off your computer, printer and photocopiers when not in use.
9. If you must leave your computer on for network applications or other purposes, turn off the monitor to reduce electricity consumption.
10. Unplug any electrical equipment that is not in use as many appliances consume power even when they're "off".
Space Heating
11. Set your thermostat to no higher than 21 degrees Celsius (70 Fahrenheit) for heating and no lower than 26 degrees Celsius (78 Fahrenheit) for cooling. Set the heating temperature to 16 degrees Celsius (60 Fahrenheit) when you're away or asleep.
12. Put on a sweater instead of turning up the thermostat.
13. Reduce heat loss through your home's exterior by adding insulation to floors, walls, crawlspaces, basements and attics.
The Pledge
I believe
that we can and must make real changes in the way we live, for the sake of a livable, sustainable future.
I believe
that individual actions, taken in concert, can send a powerful message as well as making a real difference.
And I hereby pledge
that, on May 16th, I will do my part by turning off my lights and non-essential electronic and electrical devices, and doing my best to reduce my energy consumption.