Thursday Thirteen #9 - Lessons from Mom & Dad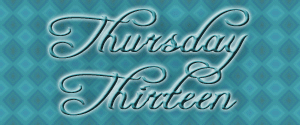 From my mother:
1. How to ward off the evil eye.
2. How to argue without saying a word.
3. How to dress well.
4. How to wear red lipstick.
5. To relish the pain that life sometimes brings as this makes you stronger, wiser and more resilient.
6. To always bring extra tissues in your handbag (they always come in handy).
7. Always wear clean underwear.
8. Speak first of the good characteristics in people (this makes you gracious).
9. How to make green beans (fasolakia), lentils (fa-kes) and stuffed tomatoes (yemista) ~ always use freshest of ingredients and make garlic your friend.
10. Always cross yourself when you leave the house or get into a car.
11. To say the Lord's Prayer under my breath whenever I'm scared.
12. To ignore gossip and trust my instinct.
13. To pay attention to the world seen and unseen.

From my father:
1. To be a good storyteller.
2. To laugh out loud – everyday.
3. To be fearless and believe in myself.
4. To see the humor in the most tragic of circumstances.
5. That life can be beautiful and ugly at the same time because we are Greek.
6. To never say "poor me" and "if only."
7. One day, I'll be thankful for the piano and ballet lessons.
8. To be quick on my feet – and not just physically.
9. To choose a man who looks good in a tuxedo.
10. Always be the first one to apologize, as you never know tomorrow …
11. There's no shame in hard work.
12. To never look at a price tag when purchasing clothes: if you love it and it's well made – consider it an investment.
13. Always say "I love you" to those close to your heart; to say it often and with abandon.