Sunday Seven # 5 - Paying Attention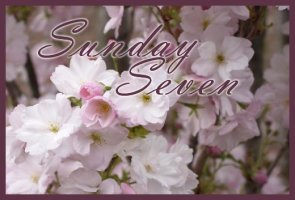 A

weekly meme for giving thanks and/or for noting important events in our lives.
It's often the simplest things that give us the most pleasure. This week's Sunday Seven is about paying attention and acknowledging people and things that make a difference in my world.


Each morning, my husband gets up, takes a shower first and then heads down to make coffee and prepare breakfast for our household. That means that I have 20 extra minutes all to myself in the morning to check my e-mail (both work and personal). The 20 minutes alone time allows me to gather my thoughts for the day.
Our lovely live-in nanny takes such good care of our little chicken. She's patient, funny and kind. In the 10 months she's been living with us, she's become a valued member of our family. University educated, with a strong Christian upbringing, she's teaching EM how to read, count, sing and clean up around the house. While I struggle with being a working mom, I know we made the right choice with our nanny and EM is getting the best care available.
My book-club has entered its fifth year. I am one of a group of 10 dynamic, charming, entertaining, smart women. Our monthly book club meetings have been a life-preserver for many of us. It's a place we go to discuss good books - but also - life, God and the universe. 6 of the 10 women now have young families and we've collectively dealt with: births, deaths, illnesses, job losses, marriages, relationship issues, promotions, demotions, graduate classes and body issues (weight loss and gains).
My job. I work in the public sector and get paid well to make a difference for the province. My co-workers are all extremely capable and talented and while there are some challenging days, overall I look forward to going to work.
Our home. It's comfortable, welcoming, warm with all modern conveniences. We were bathing EM last night and that's when our nanny disclosed that the home she grew up in doesn't have hot water or central heat.
Our weekly Friday night dinners with friends. Our weekly dinners started when I was pregnant and on house arrest, due to my complicated pregnancy. Housebound meant no social life, so we started organizing Friday night dinners with our friends (potluck) so that I could have a bit of company. Well it's now become a tradition. We never wonder what we're going to do on a Friday evening as our home is always full of good food and great company. Last night was no exception, with 3 couples (2 babies and 1 toddler) and a gourmet meal (including a decadent desert.)
My writing, writing blog and Little Chick Press. Enough said.