Sunday Seven # 4 - Our Chicken at 19 mos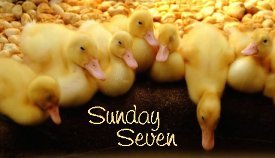 Sunday Seven is a thanks and gratitude meme designed for sharing the good things in our lives.
EM is our miracle child, our biggest blessing. Below are 7 of our most recent photos of our chicken in action.
1. There are two things that EM must always have with her: her favourite stuffed animal, a monkey, and her books.
2. EM has recently started weekly playgroups. She's discovered the joys of being in the driver's seat.
3. It's hard for EM to sit still. Her toys have taken over the main floor of our home.
4. EM is a typical toddler. She's normally very well behaved. We can still have dinner out at nicer restaurants …
5. We have to remain cognizant of her bed time, or else:
6. EM is very independent. She loves discovering new things on her own. Who knew a chalkboard at the church hall could be so engaging?
7. EM loves hanging out with her mommy and daddy. The following two pictures were taken this morning, after the Divine Liturgy for Palm Sunday, in our church hall.