Sunday Seven # 3 - Small Wonders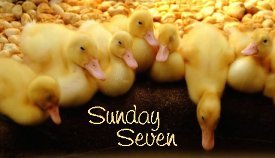 Sunday Seven is a thanks and gratitude meme designed for sharing the good things in our lives.
1. My husband surprised me with a huge flower arrangement at work this past Wednesday, for no particular reason, other than to let me know how much he loves and appreciates me.
2. Our 19 mos old chicken is beginning to string two words into simple sentences: "Sit there," "Mommy coming," "Bye, Bye," "Down, please," and "Thank you." To come home, after a long work day, and be greeted with a loud cheerful "Mommmeeee!" ~ makes everything that I do worthwhile.
3. Despite the non-stop rain, Spring has arrived - cherry blossoms, daffodils, crocuses - all harbingers that warmer weather is around the corner . Across the street, I notice that our neighbour's majestic magnolia tree is about to bloom - another sure sign that the rain will abate soon enough.
4. I am back at weight-watchers (second time is a charm) and I'm slowly starting to see my body change - 5 pounds lighter and counting …
5. I've been asked to be one of the guest speakers for an upcoming literary night (May 5) for the Victoria School of Writing. My topic: writing and blogging. I was pleased to learn that my chicken-scratch readership is growing!
6. Our plans to celebrate Easter with a traditional Greek lamb roast are coming together nicely. The lamb's been ordered and our guest list is being assembled … more details to follow in the coming weeks.
7. Tomorrow, March 25th, is a Greek National Holiday - Independence Day. It's a day that brings up such wonderful memories for me, growing up in a Greek-Canadian household - parades, poems, family outings. It's now my turn to pass along this tradition to our little chicken EM.
We'll be going to the Greek church tomorrow where after the Divine Liturgy, the community will be hosting a luncheon to commemorate all those who fought for Greece's independence in 1821 (against the Ottoman Empire), including philhellenes like Lord Byron.
It is also important to note that when the cry "Freedom or Death" resonated over the enslaved Greeks, a number of American philhellenes started a lobbying campaign in the United States for the support of the Greek War of Independence, a campaign that captured the imagination of many influential political and civil leaders in America.
The Greek Revolution also captured the imagination of many European leaders, artists and writers. Below is one of my favourite paintings from Eugene Delacroix: