Sunday Seven # 1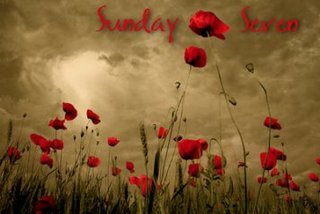 Taking time to enjoy the simple pleasures in my life …
1. I have much to be thankful for today: my handsome husband, our little chicken and I spent the entire day in our pajamas enjoying one another's company. Our perfect day began with a pancake breakfast based on my beloved Mama's recipe.
2. My favourite vignette from the day: sitting as a family on the couch, reading "Gossie" to EM.
"Gossie is a gosling, a small yellow gosling, who likes to wear bright red boots every day."
EM has brown boots that she likes to wear almost every day. She also drags her little stuffed monkey along with her wherever she goes. So, it should come as no surprise that we had to make room for her monkey to sit with us while we were reading.
3. Spending time with my own daughter brings back such wonderful memories of my own childhood and the times spent with mama. Hearing EM's laugh and calling for "mommmeee" makes my heart sing and eases the emptiness of my mom's passing.
4. I am amazed at how quickly EM is changing. It's hard to believe that she will be 19 mos old tomorrow. Part of her bed-time ritual is to say good-night to us and the handful of stuffed animals that share her bed. She's recently begun saying good-night and thank you to God.
5. I am truly thankful that our miracle baby is happy, healthy and well-adjusted. For a person who was told that she'd never have a child, each moment spent with EM is a gift. I wake up in the middle of the night, go down to her room, and watch her sleep. EM snores! I am amazed that someone so small could make so much noise.
6. I am thankful that I don't have to cook or shop for groceries - my husband takes care of those chores. I am more thankful that my husband understands my love for the written word and is equally amused when I find words like "omphaloskepsis" to post on my site. That he is also a tea-drinker and hard-core scrabble player also rocks my world.
7. I am thankful that I have such a challenging and satisfying job. I get paid to write and to use my brain. I sometimes get cranky at having to work long hours - who wouldn't? - but I love working in communications.