Thursday Thirteen #3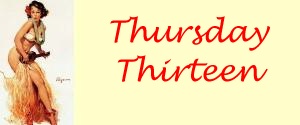 Presenting, in alphabetical order, thirteen books that have influenced me as a poet/writer:
1.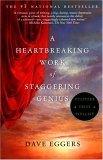 A Heartbreaking Work of Staggering Genius – Dave Eggers. Is this a memoir? A novel? This Guardian Book review titled "A staggeringly post-modern work of literary trickery" tries to explain this wondrous feat.

2. By Grand Central Station I Sat Down and Wept – Elizabeth Smart. A semi-autobiographical prose work the novel is concerned with the narrator's love for a married man (paralleling Smart's affair with the married George Barker). The simple plot – a woman yearns for a man she has not yet met; meets him, and his wife; falls in love; follows him to Ottawa and New York. The narrator-as-writer includes in her arsenal characters and events from myth, fable, literature, and the Bible.
3.

Fugitive Pieces – Anne Michaels. This startlingly beautiful novel tells the interlocking stories of two men from different generations whose lives have been transformed by war. Written in richly poetic language, studded with striking images, Fugitive Pieces is a profound meditation upon the nature of loss, love and the healing power of words.
4. Gut Symmetries – Jeannette Winterson. "This is a story of time, universe, love affair and New York. The ship of Fools, a Jew, a diamond, a dream. A working class boy, a baby, a river. " A strange, wonderful book. For more information go here.
5.

Middlesex – Jeffrey Eugenides. When this book first came out, I read an interview with the author, who stated that this novel of epic proportions took 9 years to complete. Like Midnight's Children, this novel contains a daunting array of historical facts seamlessly blended into the story about Cal and his/her journey. Through the main character's story, I learned a great deal about the great Ford Motor Company plant in Detroit called River Rouge, about the burning of Smyrna by Turkish troops in 1922 (and the burning of Detroit by angry African-Americans in 1967), about the Nation of Islam, and finally, about genetic anomalies and hermaphroditism.
6. Midnight's Children – Salman Rushdie. I first encountered this book in my second year post-colonial English class at university. Rushdie is a master story-teller, fusing history with myth. At the stroke of midnight on August 15, 1947, the date on which India proclaimed itself independent from Great Britain, 1,001 children are born with supernatural powers. Two are switched at birth, the illegitimate son of a poor Hindu woman and the offspring of wealthy Muslims. Rushdie follows them through 30 years of partition, violence and Indira Gandhi's iron-fisted rule.
7.

Milosz's ABC's – Czeslaw Milosz . I am intrigued that an entire Polish genre of A B C books exist. This book was written by Milosz when he was 89. It's a quirky memoir/meditation, consisting of short, associatively shaped prose entries - arranged in alphabetical order. I read a couple of entries whenever I need inspiration. Under A, for example, you'll find entries on: Adamites (nudists), Admiration, After all and Alchemy.
8. Obasan – Joy Kogawa. Winning both the Books in Canada First Novel Award and the Canadian Authors' Association Book of the Year Award, Obasan was the first novel to deal with the Canadian internment of its Japanese citizens during and after World War II. The autobiographical work tells the story of a schoolteacher, Naomi, remembering the struggle to grow up as a third generation Japanese Canadian amid the hysteria of World War II.
9. Running in the Family – Michael Ondaatje. This memoir is largely constructed through second-hand stories and these stories are filtered by memory and gossip. Funny, poignant and heart-breaking.
10.
The Colossus of Maroussi– Henry Miller ~ The book is a love letter to Greece, both a travelogue and a character study. After living in Paris for several years, Greece seemed to Miller a place where he felt the most intensely alive, peaceful, and balanced.
11. The Liar's Club – Mary Karr This memoir, published in 1995, describes a childhood that many people would wish to avoid. Her mother's alcoholism and addiction to diet pills lead to many strange episodes. Mary's father is a rough-and-ready, quarrelsome native Texan with Native-American blood who excels as a teller of tall tales. Beautifully written and very accessible.
12. To the Lighthouse – Virginia Woolf . Mrs. Ramsay is a housewife and hostess; her husband is a cold, analytical philosopher; drawn in their wake are, among others, a struggling young painter named Lily Briscoe and their little son James, whose dearest wish is to take a boat ride to a nearby lighthouse.
Quickly, as if she were recalled by something over there, she turned to her canvas. There it was—her picture. Yes, with all its greens and blues, its lines running up and across, its attempt at something. It would be hung in the attics, she thought; it would be destroyed. But what did that matter? she asked herself, taking up her brush again. She looked at the steps; they were empty; she looked at her canvas; it was blurred. With a sudden intensity, as if she saw it clear for a second, she drew a line there, in the centre. It was done; it was finished. Yes, she thought, laying down her brush in extreme fatigue, I have had my vision.
13. The Woman Warrior: Memoirs of a Girlhood Among Ghosts – Maxine Hong Kingston. As a first-generation Chinese American, the author struggles to reconcile her Chinese cultural heritage with her emerging sense of herself as an American. A clever blend of fantasy, childhood memories, folklore, and family history, Kingston's work, first published in 1975, transcends genres. I am forever indebted to my modern American Literature professor, Peter Quartermain, for sharing this amazing book. And, one of the reasons I became a writer is due to Maxine Hong Kingston.